Technical News
The GGS 3D graphics software and electronic hardware is being updated with new features continuously.
This listing shows only some of the more important recent updates.
---
31.12.2006 GGS 3.11.4 Improved ball roll routines. Ball on green rolls and curves far more smoothly now.
Improved ball rendering. Balls were occasionally disappearing into terrain in previous versions of the software.
Memory leak bug fixed. A memory leak in the system was causing the system to slow down after a number of rounds in previous versions of the software.
---
18.12.2006 GGS 3.10.4 Maximum number of players that can be stored in the system increased to 252.
Ball Track path calculation methods improved.
---
09.12.2006 GGS 3.10.3 Club Sets, Swing Tempo and Smash factors.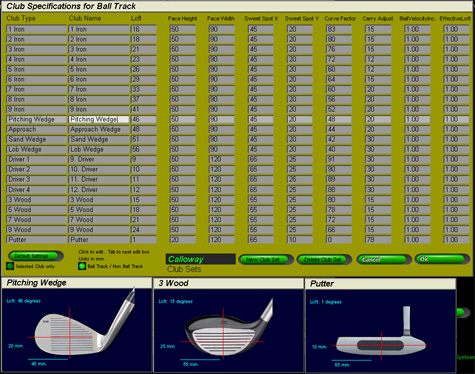 As of this version you can define club specifications for numerous club sets.
Club specifications are required by the system to calculate ball impact position on club-face, loft, ball vertical launch angle etc... which vary from one club make and type to another.
The club sets can be assigned to individual players.
Swing Tempo: Swing tempo is now being measured with the mat sensors.
Smash Factors and Swing tempo are now being recorded in the swing analysis tables.
(Release due end of this year)
---
26.11.2006 GGS 3.09.0 Numerous improvements including Invalid Swing Messages (if your ball didn't launch you can now see why) and improved flight trajectory graph adjustment features.
Super easy method of creating water reflection models in 3d Studio Max described: go to Water Reflect Map Modeling for more details.
---
12.11.2006 GGS 3.06.2 3D long grass waving in the wind.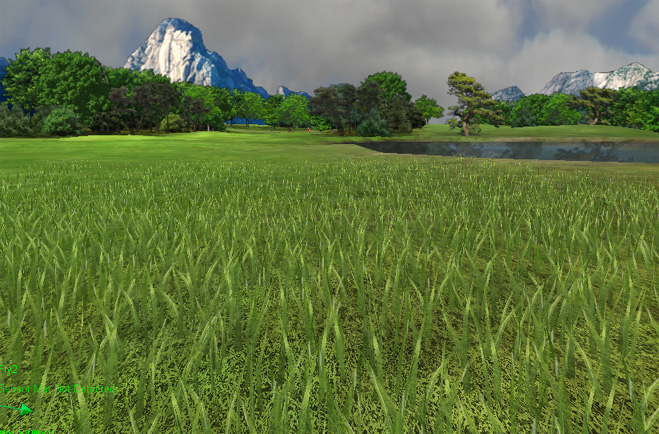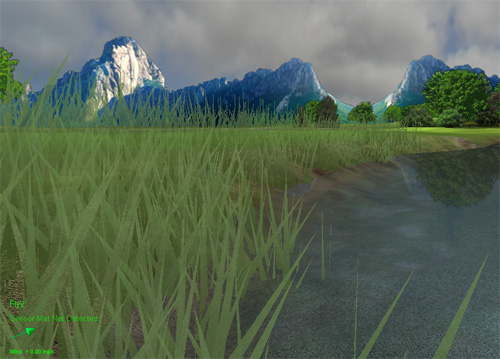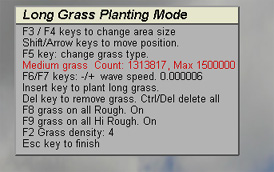 You can now interactively plant 3D grass models. The grasses wave in the wind and you can set the speed and density individually for each hole in the new Long Grass Planting mode.
---
10.11.2006 GGS 3.06.0 Improved tree and object planting methods. You can now plant trees and other objects from top and 3D views as well as the standard on course method.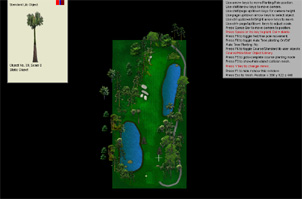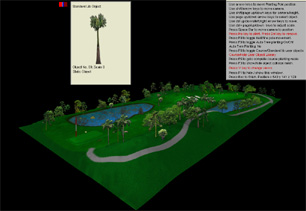 Just select the tree or object from the objects library and mouse-click on the desired position to plant.
---
09.11.2006 Coming soon: 100 new free golf courses. 100 new 18 hole golf courses are currently under development and will be available soon.
3D trees, plants and grasses. The GGS 3D model rendering capabilities have been extended to include 3D trees, plants and grasses. These models will be available soon.
---
06.11.2006 GGS 3.05.2 Distant Terrain/Landscape 3D Models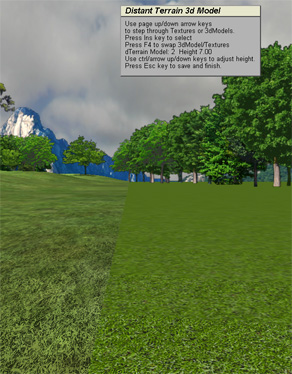 The terrain outside the main course hole rendering area can now be realized with a 3d terrain model. As opposed to the old method that just used a single polygon flat plane with a single texture stretched across it with no level of detail, the new method allows you to add height terrain with any number of detailed textures and polygons for complete landscapes. The number of polygons used in the model are not limited but you'll have to watch the rendering performance if over 1000.
---
05.11.2006 GGS 3.05.1 3D Model object reflections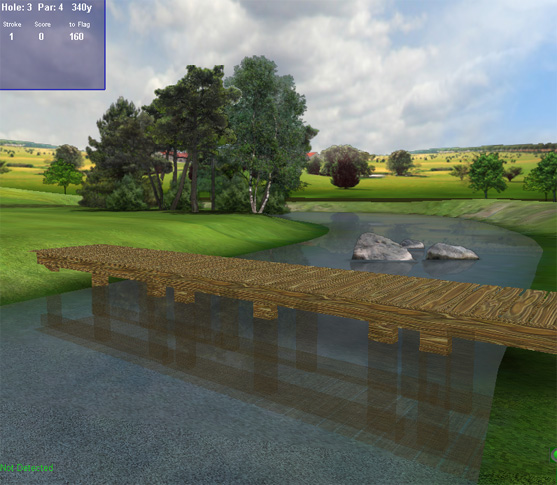 All your 3D Models can now be reflected in water.
New: Scores in score card can now be adjusted. (in case of a mishap or you'd like to cheat a bit while nobody's looking)
New: Improved putt roll routines.
---
02.11.2006 GGS 3.04.1 Language Buttons can now be made in the chosen language.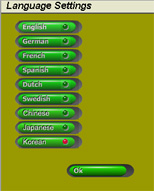 Here, Korean
---
31.10.2006 GGS 3.03.6 Improved Ball Track / Putting Mat serial IO routines. In previous versions they were the cause of occasional undetected swings.
---
30.10.2006 GGS 3.03.2 Windows Mode. In the graphics settings you can now set windows mode instead of the usual full-screen mode. This is helpful when you require other program windows open in the background ie when designing courses and you have a graphics tool open on a 19" screen..
---
29.10.2006 GGS 3.02.7 New alternative Fly-with-Ball. There are now two versions of the fly-with-ball feature. Fly 1 follows the ball's trajectory with an over-head camera view of the ball. The new Fly 2 follows the ball's trajectory with the camera behind the ball so that when climbing the camera tilts upwards and when falling the camera tilts back down. Press the F key to select Fly1, Fly2 of Fly off.
---
23.10.2006 GGS 3.01.6 Ball Velocity/Carry Graph for all clubs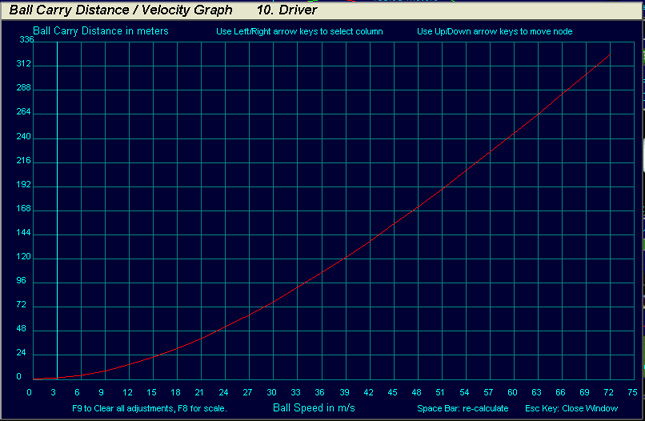 You can now see and adjust the ball carry for every club and for every ball velocity.
The curve is completely user adjustable and is automatically shown when adjusting the ball carry factor for a particular club.
---
22.10.2006 GGS 3.01.5 Sky dome reflections in water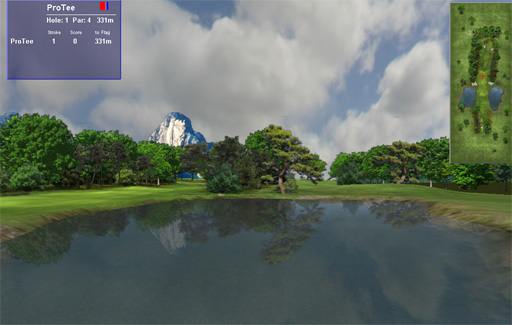 Previously only sky-boxes were used as sky reflections. That used to be ok but as the sky and cloud now drifts with the (user adjustable) wind, the sky/reflection line-up has to be more exact.
Object blocking view detection
If an object or tree is close and (quite probably) is in the line of view, a message will pop-up telling you to optionally press the keyboard space bar.
Pressing the space bar each time just takes you back along the incoming path of the flight. ie you can step back which is in accordance to PGA rules.
In actual fact the space bar step-back feature has been around for over a year but it was found that in commercial environments users didn't know what to do when landing a foot or two in front of a whopping great tree!
---
20.10.2006 GGS 3.01.3 New camera motion when putting bug fix.
A bug in this new routine was causing the camera to swing around when putting from certain angles. This has been located and fixed as of this version.
---
20.10.2006 GGS 3.01.2 Sky/Cloud motion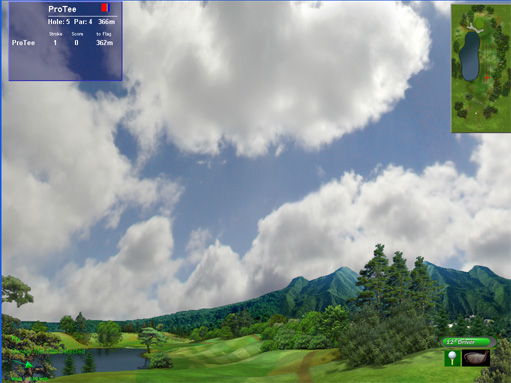 As of GGS version 3.01.2, the sky-cloud drifts across the horizon with the wind.
---
19.10.2006 GGS 3.01.1 New camera motion when putting.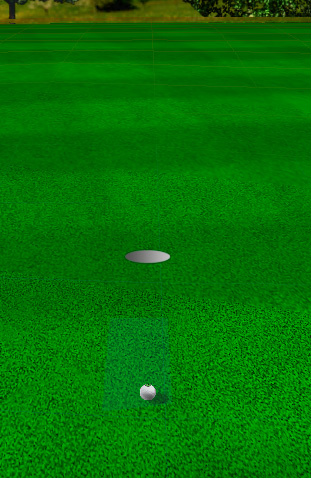 Now, when putting and Fly-with-ball on, the camera will smoothly zoom-in to the ball while rolling from the original camera angle at launch position. Before, the camera would just jump to a position behind the ball.
Camera motion lag and zoom-in is also now featured with drives and normal strokes.
Spinning ball animations
Ball now features a logo that animates the ball spin. Especially noticeable when fly-with-ball set on and putting. You can now see the ball rolling and not just (seemingly) gliding along the ground.
---
17.10.2006 From the Coming Soon department:
ProTee GPS interactive course designing tool.
The ProTee GPS course designing tool makes creating great looking new golf courses child's play. The system can directly read GPS terrain data so that exact course terrain height and distances are ensured.
Water Ripple: The GGS graphics engine will soon feature water/pond ripple animations.
---
16.10.2006 GGS 3.0.1 New High Definition surface texture rendering method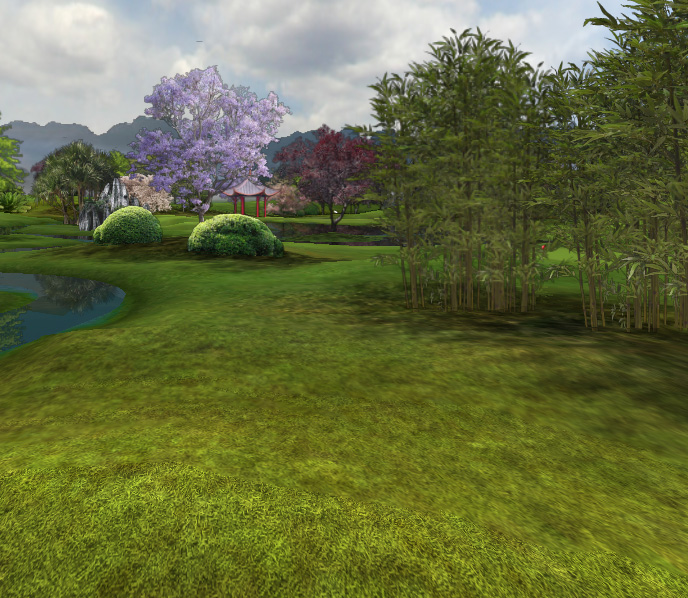 GGS 3.0.1 represents a quantum leap in surface rendering quality for the GGS graphics engine.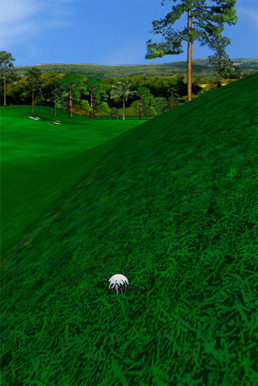 goto HighDefPics for more screen shots.
---
15.10.2006 GGS 2.58.5 Swing/Club analysis data can now be stored and retrieved in 24 diffrent tables. This is of particular interest to club-filters who want to compare analysis data generated by various clubs makes. Each table can retrieved with a table combo box and assigned a user definable name. Entries are made into the current table after every shot whereby individual entries can be deleted.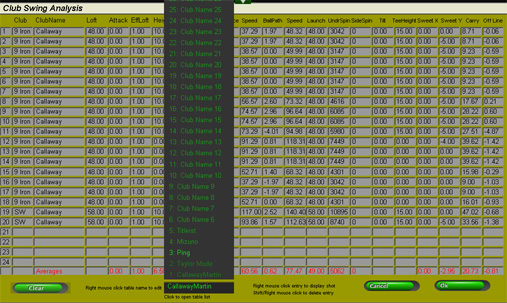 New ball-falling-in-hole animations. Compared to the old method, these are far more exact and life-like. Animations are made for ball falling into left, middle and right sides of cup.
.

Max ball speed limit for ball to fall into cup hole. If your putt is too fast when the ball is going straight to the hole, the ball will now bounce over the hole lip.
---
07.10.2006 GGS 2.57.4 Reversed camera / incoming flight view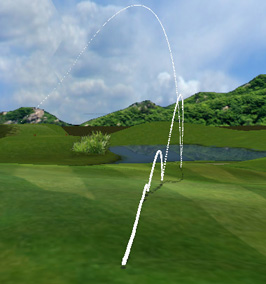 On long shots - when the ball is getting very small in the distance - you can now opt to have the camera switch automatically to the ball's landing place to watch the incoming flight.
---
03.10.2006 GGS 2.56.1 Green Break Path / Flag out of hole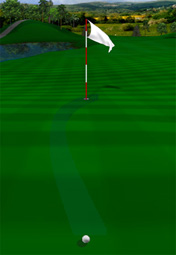 The green break path can now be shown when on green. The flag can now be taken out of the hole automatically at a user defined distance or manually.
---
go here for Technical News 2
go here for Technical News 3